Brookfield, CT's PowerPro Elite Generac Generator Dealer
Deak Electric, Inc. Brookfield, CT's trusted generator professionals. Our experienced staff will help you buy the right generator for your home or business. If you are looking for a diesel standby or backup generator system, our team can install and maintain the best. Provide for and protect your family and home in the case of a power outage or emergency.

Let Deak Electric provide you with power generators to backup your home and business. The #1 selling Generac generator dealer in the area has knowledgeable and dedicated team, that has been helping local Brookfield residents for more than 30 years!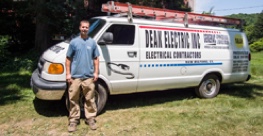 PowerPro Elite Generac Generator Dealer
Protect your home 24/7 with backup and standyby generators
Deak Electric, Inc. provides whole house generator dealiver, installation and maintenance, as well as portable backup generators for in your home or on the road. We have something for everyone in almost every situation.

Our Generac generator products and services include diesel standby generators, three phase generators, power backup systems, standby home generators, diesel home generators residential generators, whole house backup generators, generac backup generators, along with transfer switches and accessories. We will help you select the generator that meets your family or businesses need and budget.