Bethel, CT's Elite Generator Professionals
For over 30 years Deak Electric, Inc. has been providing Bethel, CT families and businesses with PowerPro Elite Generac generator service. Our staff of high quality professionals can help you choose the right type of whole house or portable generator to keep your home safe.

Let Deak Electric's professional staff of qualified ProPower Elite Generac Dealers delivery, install and maintain a power generator for your home or business. Since 1986, Deak Electric has helped residents of Bethel power their homes through storms and outages.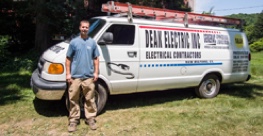 PowerPro Elite Generac Generator Dealer
High quality backup and standby generator power
Deak Electric ProPower Elite Dealers will ensure your generator needs are met on time, with the highest quality and maintained fully and professionally. Trust the security of your famiyl and business to the #1 Generac generator dealer in the area.

Our Generac generator products and services include diesel standby generators, three phase generators, power backup systems, standby home generators, diesel home generators residential generators, whole house backup generators, generac backup generators, along with transfer switches and accessories. We will help you select the generator that meets your family or businesses need and budget.